For the longest time, I had pined for circle lenses! I'd seen so many super cute Asian girls wearing them, and eventually people I knew in person became fans of wearing them. Personally I think, although they're unnatural and therefore a bit unsettling, that they're very cute in a doll-like way!
The transaction went smoothly, and they arrived fairly quickly! I bought two different pairs from a series called "Wonder Eye." I chose blue, and green! (My eyes are naturally brown, so I wanted to try something different to me. In the future, I think I may try brown as it's more believable since it's my natural colour!)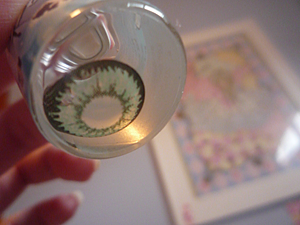 I'd actually never put contacts in before in my entire life, the whole thing was really quite the ordeal for me! Even looking at what a coloured contact lense looked like was a pretty foreign thing to me.
You'll have to excuse the mascara; that's what happened to my makeup while trying to put the lenses in! ;_; Either way, it looks WAY different from my natural eyes! Circle lenses extend the coloured part of your eye, and make it appear as if your eyes are larger and cuter!
Here's just one photo of what they looked like in! I honestly thought the size of the lense was going to be what unsettled me most, but what was really the most odd to my was seeing myself with BLUE eyes! I think I like myself better with brown, haha!
What are your feelings on circle lenses?
~Do you like or disslike them?
~Do you think changing your eye colour is cheating??
~Do you think they're creepy, or cute?
Discuss!
Unrelated, but I'd like to give my friend Nitty a HUGE thanks! She totally re-vamped my entire blog, just for me, because she's just that much of an awesome friend! I think she made it look lovely!
I hope you've enjoyed my second entry! Thank you very much for looking, and I hope you'll be back to read more!~
~ashlee